Background
On November 28th, 2022, the European Parliament and Council approved the "Corporate Sustainability Reporting Directive" (CSRD), which was proposed on April 21st, 2021, as part of the EU Sustainable Finance Package and replacement of the outdated NFRD ("Non-financial reporting directive").
The new directive aims to make businesses more publicly accountable for their societal and environmental impacts and to unify and modernize the rules about the type of social and environmental information that companies must report. Compared to the NFRD, it also greatly broadens the set of large companies and SMEs that will be considered.
This means, approximately 50,000 companies will be required to report on ESG matters, using the following timelines:
1st of January 2024: for companies already subject to the Non-Financial Reporting Directive (NFRD). First report to be published in 2025.
1st of January 2025: for all large companies that are not presently subject to the Non-Financial Reporting Directive (NFRD). First report to be published in 2026.
1st of January 2026: for listed SMEs, small and non-complex credit institutions, and captive insurance undertakings. First report to be published in 2027.
For German companies there is the Supply Chain Due Diligence Act, also known as Lieferkettengesetz (LkSG) with similar objectives, which is already valid from 1st of January 2023, and first reporting required in 2024.
What is ESG?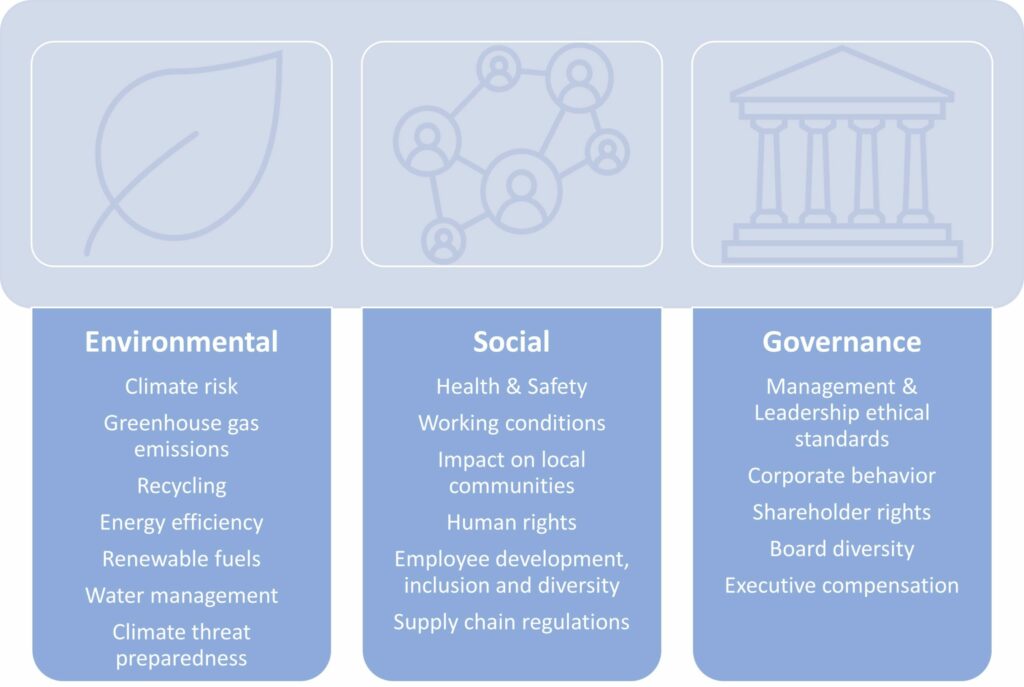 ESG is a reporting framework that consists of three main topics: Environmental, Social, and Governance. These are the primary areas that companies will be expected to report on due to CSRD. The main aim is to provide insight for stakeholders and help them understand the behavior of a company when approaching all the non-financial risks and opportunities inherent to the company's everyday activities; and in a broader perspective, to measure how the corporate world tackles global challenges such as climate change, rising inequality, exploitation of developing countries, etc.
Because ESG issues can also carry significant financial risks for investors, it is becoming an increasingly important consideration in investment decision-making. The performance and value of a corporation over the long term can be significantly impacted by how it approaches specific environmental, social, and governance challenges.
Environmental
Emissions that contribute to air, water, and ground pollution, as well as the greenhouse effect. One of the main indicators of a company's efforts if it is using recycled materials and whether it makes sure that as much of the material in its product as possible is recycled back into the economy rather than going to waste. It covers the company's natural resource management and also, from a risk management perspective, the resilience to physical climate threats overall (e.g. flooding, and fires).
Social
The social pillar focuses on how the company manages labor practices and employee development. It includes reporting on health and safety standards, supply chain regulations and adequacy, product quality, and safety. Another important question is if the company enforces its own ESG requirements on its suppliers and whether it takes unfair advantage of clients and/or society in a way.
Governance
Governance (or Corporate governance) refers to the management and leadership of an organization. Issues under this pillar can be corporate behavior (e.g. corruption, unethical business practices), how shareholder rights are valued and respected, the rationality of executive compensations, and the compliance of other internal control policies to promote leadership accountability and transparency.
What we do to help achieve ESG compliance
Firstly, we analyze the current ESG-related processes in place and look for potential improvements. As a result, we design new processes or optimize the current ones. As a part of that, we implement new tools and frameworks if necessary. There are several ESG disclosure frameworks available to help businesses choose what information to report and what metrics to use. A single business may employ several frameworks to achieve ESG compliance, the two most widely utilized ones being "The Global Reporting Initiative (GRI)" and the "Sustainable Accounting Standards Board's standards (SASB)".
Audit
We are also able to conduct audits to measure a company's CSRD or LkSG compliance.